Tripods & Mounts, AZ & EQ, Go-To, AZ-EQ6, Skywatcher !
The Sky-Watcher AZ-EQ6 SynScan gives optimal stability and pointing accuracy for a wide variety of heavy professional photo and video equipments. It is a hybrid mount with alt-azimuth capability for general use, and equatorial capability for astrophotography use. Supplied with a SynScan handset with dual AZ/EQ firmware, it can automatically find and track 42,900+ celestrial objects from its database. AZ-EQ6 SynScan is capable of carrying heavy-duty photographic equipments for professional shooting and video recording. It is a very efficient transportable mount weighing only 15 kg, for a load capacity of 20 kg (counterweight excluded).
Part 1 of 2
0.084m3
20000g
Size(mm): 1155x270x270
Part 2 of 2
0.084m3
21000g
521x541x301
(counterweight excluded).
Freedom Find™ - tracking made easy!
With the patented Freedom Find (dual-encoder) technology which allows the telescope to be moved manually or electronically in either axis without losing its alignment or positional information. After moving to a new object the telescope will automatically begin to track the new object accurately. No re-setup is required in one observing session.
Permanent periodic error correction(PPEC). PPEC can be trained with Autoguider or PC.

Belt drive - Super smooth PE curve. Low backlash, silent

 

slewing

. 

DSLR Electronic Shutter Release Port for batch exposures of astrophotography. 

Include two dual-fit (45mm/75mm) saddle for mounting two telescopes. 

New motor controller with higher torque and accuracy.  

Driving Resolution: Approximately 0.14 arc seconds 

Autoguider Port 

PEC control in EQ mode 

Alignment methods: 1, 2, or 3-star alignment (EQ) / brightest star or 2-star alignment (AZ)    

Telescope Connection: 2 x dual-fit saddle plates supplied accepting 45mm & 75mm dovetail bars 

RA/DEC Worm Gears: D=92.5mm, 180 teeth, brass 

RA/DEC Axes: D=40mm, steel 

Latitude Adjustment Range: 10° to 70° (EQ), 90° (AZ) 

Azimuth Adjustment Range: About ± 9°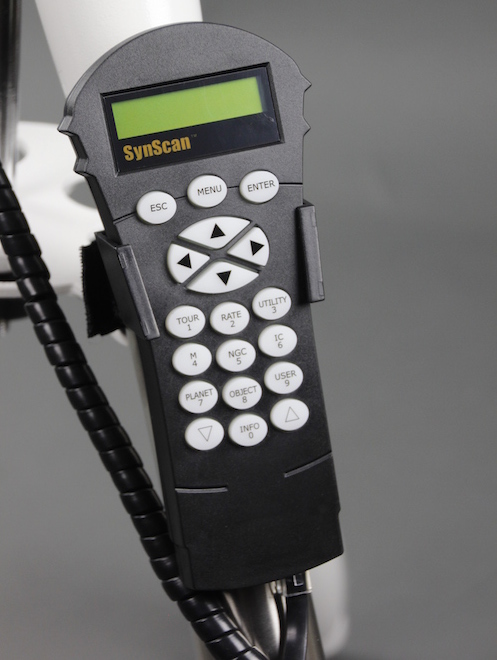 ---
"This hefty mount can operate as either an altazimuth or an equatorial, promising accurate GoTo and tracking. We put in through its paces." 
Review in SkyNews by Alan Dyer |

 

Read Full Review
Specifications
| | |
| --- | --- |
| Tripod Height | 127 cm ( 50")  |
| Tracking Rates | Sidereal / Solar / Lunar rate  |
| Guiding Speed | from 0.125x, 0.25x, 0.5x, 0.75x, 1x  |
| Mount Type | EQ/Alt-AZ Dual Mode  |
| Counter Weight | 2x 5 kg  |
| Accessory Tray | Large wall to wall  |
| Motor Drive | 1.8° Hybrid Stepper Motor  |
| GOTO System | SynScan Hand Control  |
| Tripod Weight | 7.5 kg, 2" steel tripod  |
| Shipping Weight | 21kg + 20 kg  |
| Shipping Dimensions | 118x28x29cm3; 53x52x32 cm3  |
| Power Supply | DC11~16V 4A  |
| Payload Capacity | 20 kg (counterweight excluded)  |
RRP$3590.00


Next Shipment: